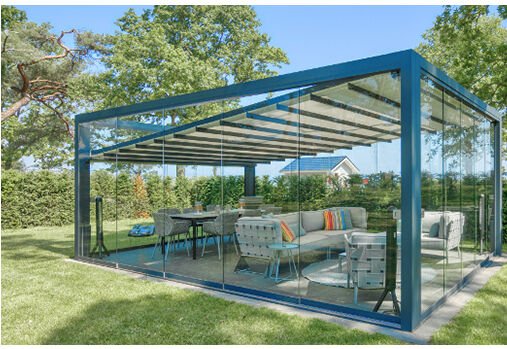 The Pergola Sunrain Q Retractable Roof offers a combination of modern style, and effective protection from the sun, rain and wind. Ensuring protection from the elements couldn't be more effective or stylish.
Extended horizontally, this folding roof provides effective protection from the sun, even at high wind strengths. Should it rain, the system can be lowered at a touch of a button. This automatically opens a drainage flap, allowing the rainwater to be drained in a controlled way through the front supports. Even in the inclined position, the Pergola Sunrain Q can withstand maximum wind forces.
Choice of operating systems
A radio-controlled motor is included with this retractable roof as standard. However, there is also a range of remote controls or wall switches to choose from.
Details
The PERGOLA SUNRAIN Q is available with a maximum projection of 650 cm. Side by side, multiple systems can be built free-standing or mounted on a wall.
The PERGOLA SUNRAIN Q comes in the standard colours traffic white (RAL 9016) or white (RAL 9010), or alternatively in one of the 18 LEINER LOUNGE fine structured finishes. We can also supply them in any preferred RAL colour for an additional charge.
For wind-stable protection from the sun the PERGOLA SUNRAIN Q is also available in the SUNSHINE variant. This is fitted with a mesh fabric and provides effective protection against the sun even at high wind strengths.
Optional Extras
Discover the many different optional extras for the PERGOLA SUNRAIN Q:
Lighting
LED lights integrated in every second cross-purlin ensure atmospheric lighting. The LEDs can be dimmed using a remote control. Thus you can adapt the LED lights to your individual needs.
AREA slide
Thanks to the frameless and smooth running AREA slide elements you can easily open and close your conservatory.
Vertical awnings
To create a textile space with even greater flexibility, the sides of your PERGOLA SUNRAIN Q can be supplemented with wind-stable vertical awnings. The awning fabrics are protected by a cassette and can optionally also be fitted with a window of transparent PVC.
Heater
A heater allows you to sit out longer on those balmy summer evenings and enjoy the pleasant warmth under your terrace folding roof. The heaters are also available in one of our 18 LEINER LOUNGE colours to match the terrace folding roof. You also have the option of operating it wirelessly and integrating it into your smart home.
Control
Fully automated controls complement the electric drive and offer additional comfort and safety as sun and wind monitors, automatically extending or retracting your terrace folding roof according to the sunlight, even when you are not at home. Given the sensitivity to wind, the wind monitor is of limited use with terrace folding roofs. Conventional wind monitors are configured for up to about 6 on the Beaufort Scale.
Fabric stabilisation profile (FSP)
In particularly windy locations the wind can force the fabric up while it is being retracted. To avoid this as far as possible, a fabric stabilisation profile (FSP) fitted directly on the awning fabric is available for an extra charge.
Fabrics
Exclusive awning fabrics to suit every taste
Only the combination of premium awning technology and a weatherproof yet elegant awning fabric will make your awning unique to you.
LEINER fabrics are known both for their quality and for the wide selection of different patterns. Last but not least, LEINER's awning fabrics offer protection against UV rays of up to factor 80.
Technical
The PERGOLA SUNRAIN Q can be mounted free-standing or on the wall. It can be combined to form "multi-field systems". The PERGOLA SUNRAIN Q can also be closed with vertical awnings on the side and front.
C2C = centre to centre
Minimum width = 2,300 mm
Minimum depth = 2,000 mm
Maximum height = 3,000 mm