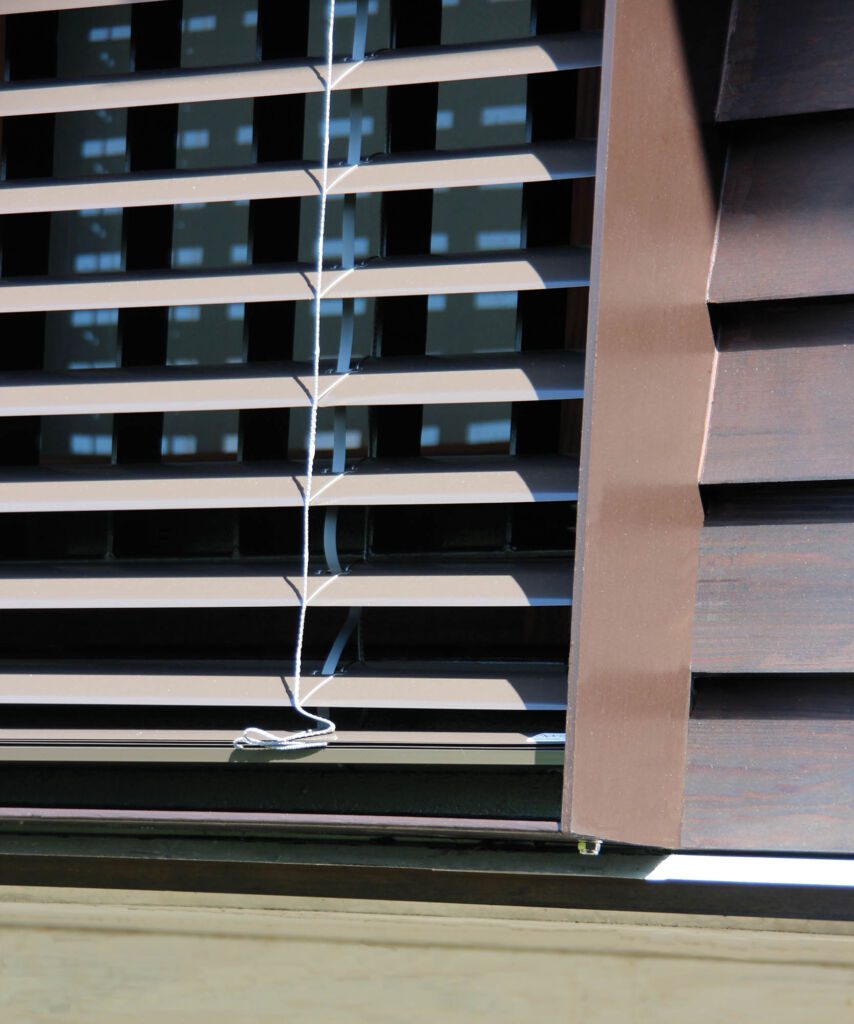 Horiso Australian-made External Venetian Blinds are a smart, energy efficient option for your external windows. Proven to reduce thermal heat gain by up to 93%, they can help you minimise energy use, optimise airflow, and prevent UV damage to your interiors. They can also help you achieve a high environmental green building rating.
The tilting slats allow you to control light flow, minimising the need for artificial lighting. The durable aluminium component radiates heat, and has low absorption and transmission – which can help keep your interior temperatures moderate, year round. By controlling solar glare, they can even reduce eye irritation and improve computer screen visibility.
They are also made from high-strength, shrink-resistant and reinforced 100% Kevlar ladder braid components which will stand the test of time. This means they provide years of reliable operation, with minimal maintenance. The pelmet is made from extruded aluminium, and they utilise stainless steel 316 marine-grade cables as well as high quality PE slat coil. This makes them heavy duty, commercially-graded and engineered.
Horiso Australian-made External Venetian Blinds are made locally, and typically have a four-week lead time. This means there are no international freight delays, and you're also supported in terms of parts and service.
Choice of operating systems
These blinds are easy to operate, and you have the option of manual, motorised remote control, or fully integrated automation. With automated control, you can set the slats to tilt at certain angles at specific times of the day, so as to optimise air-flow and shade at varying sun angles.
Key Features
Easy to operate
Choose from manual, motorised remote control or fully integrated automation.
Ease of installation
Customise the system widths and lengths, and install on internal, external and double skin facades.
Energy efficient
The aluminium composition of these blinds reflects heat, helping keep interiors cooler in summer and warmer in winter.
Optimise natural light
The slats of these blinds can automatically tilt to optimise shading at varying sun angles.
High quality, durable components
Made from high-strength, shrink-resistant and reinforced 100% Kevlar ladder braid, these blinds have a slimline profile which makes them less prone to damage or denting.
Quality manufacturing
All steel extrusions and injection moulded parts are manufactured in Australia, while ladder braid, lifting tapes and aluminium coil are imported from Europe. The final product is fully assembled and tested in Sydney and comes with a five year manufacturer's warranty (see Horiso terms and conditions for details)
Aluminium Slats
These crowned aluminium slats are made from a highly elastic alloy, which makes them flexible, scratch-proof and shock-proof. Double omega punching (which comes standard on external and double skin facade installations) combined with the ladder braids ensure the slates close smoothly and are aligned and stable in most weather conditions.
‍
Horiso's powder coating finishing processes and products are approved by Qualicoat, an internationally recognised powder coating licensing authority.
Standard Colours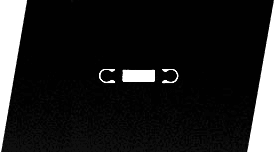 Standard Widths
80 mm / 100 mm / 150 mm
Perforated Slats
The perforated slats are available in Horiso's standard aluminium colour range. Custom colours can be requested using the RAL colour system (subject to minimum quantity requirements).
Perforated aluminium slats feature tiny circular holes which allow a small amount of light through the blind when it is closed or tilted. A large amount of natural light is excluded, with a small percentage of light allowed to pass through. This means that while solar heat gain and glare is significantly reduced, including harmful UV rays, natural light can still flow into your interiors.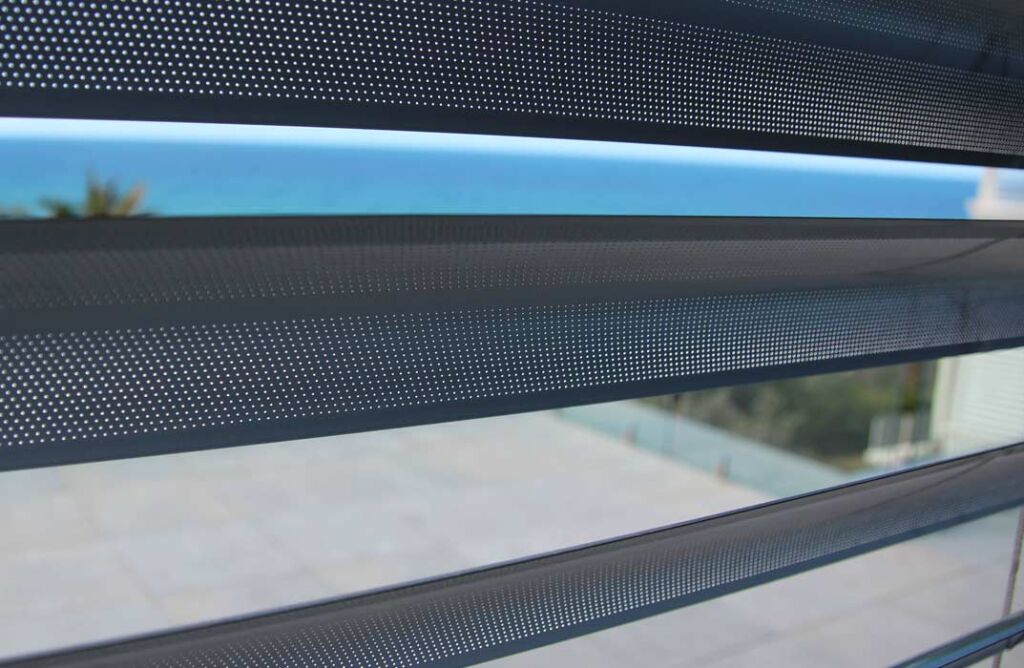 Timber Slats
Horiso timber slats are manufactured from sustainably managed forests in both Western Red Cedar, Paulownia and Accoya® varieties.
Western Red Cedar
A robust timber under which can endure most weather conditions and is not prone to shrinkage or swelling. Due to its versatility, it can be used for both internal and external applications.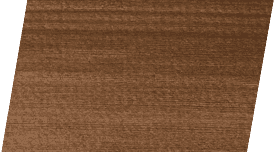 Timber Widths: 80mm X 4mm
Paulownia
A reliable, resilient, lightweight and straight grain hardwood timber for internal installation.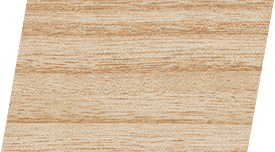 Timber Widths: 84mm x 5mm
‍Accoya®

Accoya® is a modified timber made using a process called acetylation: a cutting-edge patented technology which enables it to resist rot, defy the elements and stay strong for decades. Accoya® wood is sourced from sustainable sources, including FSC® and Cradle to Cradle™ Gold environmental certification. It can be used for both internal and external applications.
Please get in touch with the team at A'besco to learn more about Accoya® slat sizes, colour stains and lacquered finish options.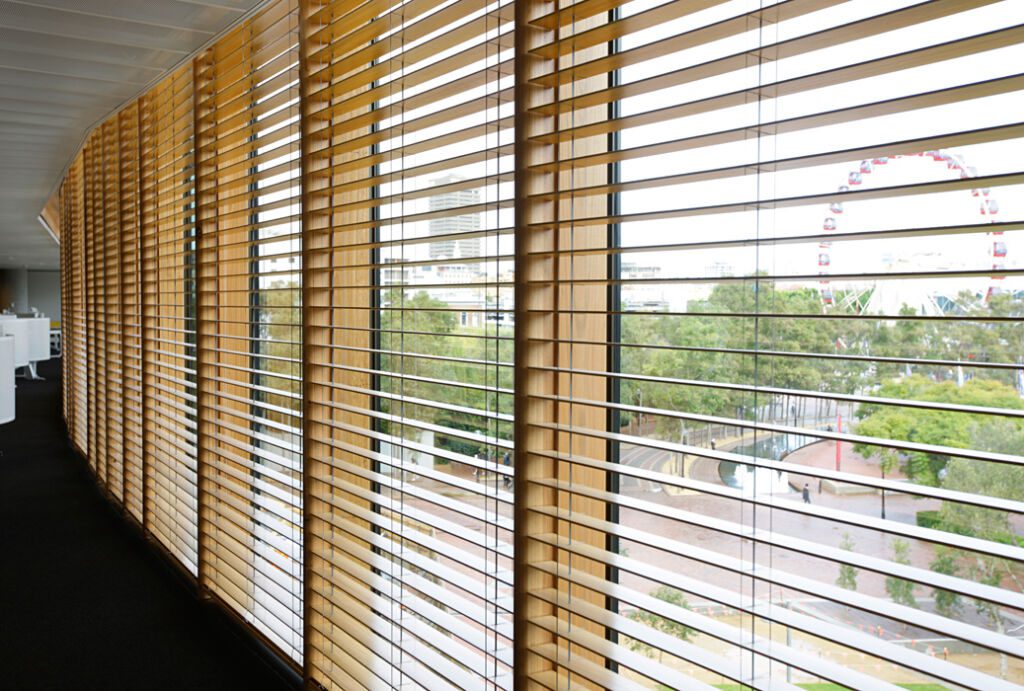 Specialty Venetian Blinds in double skin facades
Horiso External Venetian Blinds are also suitable for installation in double-skin facades. Blinds installed between the two skins / facades can help optimise the management of solar energy as it passes through the facade – benefiting both the building and its occupants.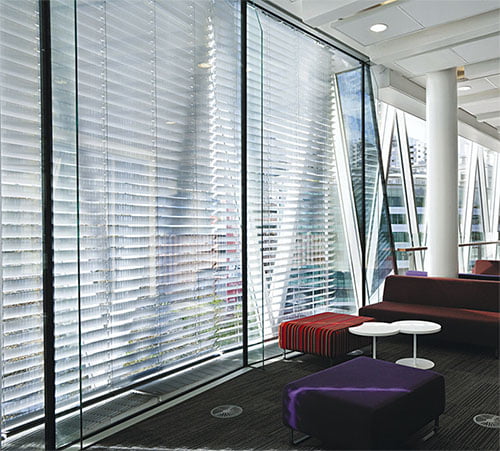 Technical specifications and key features
Head Rail
Manufactured from extruded aluminium alloy 6060-T5/6
Clear anodized 25um
Size 60mm x 57mm x 1.5mm wall thickness
Head rail opens on the underside to give access to the gearbox and to the tilt shaft and tape spools for maintenance as required
Drive Shaft
Manufactured from aluminium alloy 6060-T5/6 extrusion (12mm diameter) with hexagonal 7mm coupling insert – optionally fitted with Nylon6 extruded link devices at the end to connect blinds together.
Clear anodized 25um
Gate Brackets
Top-fix 'saddle' brackets, manufactured from aluminium alloy 6060-T5/6 extrusion, (HORISO® Gate Brackets). Number and spacing of brackets to depend upon the width of the blind and to be advised by the manufacturer. Generally, a maximum spacing of 600mm between two gate brackets has to be assured
Clear anodized 25um
Slats
80mm or 100mm wide high flexible crowned slats w/ double HORISO® Omega punch
Manufactured from 0.40mm thick, highly flexible aluminium alloy AA5050 marine grade
PVDF – three layer polyester coating (including etch primer conversion coating) including longitudinal edges, a HORISO® standard (no slitting after coating, and re-coating of edges required)
Double oven baked
Bend and scratch resistant
Shockproof
Lifting Tape
TEXBAND® lifting tape manufactured from PES Filament with high tenacity in warp and weft
6mm (+0.00 / – 0.20mm) thickness approx. 0.28mm
Elastic stretch max 1% (on 4.00m with 100N, 3 minutes loaded)
Breaking strength min. 700N
Hot temperature shrinkage max 2.5% (4.00m boiling over 10 minutes)
Ladder Braid
Ladder braid manufactured from Kevlar reinforced Terylene with cross webs that are cross-attached to both omega punches on each side of the rectangular lifting tape punches to mitigate/limit lateral movement
Distance between side cables 85.00mm +/- 0.5mm
Step cable diameter 1.00mm
Side cable width 3.80mm +/- 0.2mm
Ladder spacing over measured 3,960mm (56 spaces) and 500g loaded – 3,960mm +/- 5mm
Crooked after 56 spaces less than 5.00mm
Tensile strength for side cable 600N
Elongation by 3,960mm, 2 minutes and 5N loaded, each side cable loaded with 50N – less than 0.5%
Shrinkage after 10 min boiling less than 0.55%
Colour Check – Xenontest 6
Base Rail
Base rail manufactured from extruded aluminium alloy 6063-T6 (2mm wall thickness) in 80mm width
Lifting tape and ladder braid are attached to the base rail using a HORISO® safety attachment which releases the lifting tape under excessive load. This prevents damage to lifting mechanism and base rail and allows an easy repair onsite
Base rails carry plastic moulded Nylon66 end caps and cable guide conduits
Base rails are either 25um clear anodized or powder coated in the corresponding slat colour
Tilting Device & Tape Roll
Horiso N systems are equipped with a multi-function tape roll support which allows slats to fully open and fully close over approx. 170 degree (adjustable limits)
Cable Guides
Stainless steel wires (s/s 316 1×19, cable 3.20mm diameter) with a breaking strength of > 7.0 kN
Cross section area >5.4 sq mm
Cables are fitted into the head rail by special HORISO® double spring tensioning bracket (extruded AA 6060, clear anodized 25um) and heavy duty mushroom swage (active swage length 26.00mm, overall length 45.00 – 49.00mm, shaft OD 6.40mm, max. load > 9.0kN)
Bottom fixing with HORISO® M8 universal swage (max. load > 3.0kN) into either aluminium bottom angle bracket, drop in anchor or other various fixing elements
Venetian Blind Motor
Elero JA06 Venetian Blind Motor, noiseless soft brake, no "click-clack" sounds with every movement, known for high cycle count and reliability
6Nm torque, 26rpm speed
Adjustable limits (start and stop locations)
230V @50h
Current 0.5Amps (X2.5 at start-up)
Power 115W
Ingress protection IP44
Max limit switch range – 85 shaft revolutions
5 minute operation before thermal protection cut out
Connecting cable 0.8M with moulded Hirschmann plug (IP54)
Aluminium Specification & Finishing
All extrusions to be aluminium alloy 6060 –T5/6 or 6063 – T5/6
25um (micron) for all clear anodised aluminium components
Powder coating finishes are available at an additional charge and are approved by Qualicoat – Class 1.5 internationally recognised powder coating licensing authority
Steel Component Specification & Finishing
All steel components are Stainless Steel 316 marine grade.