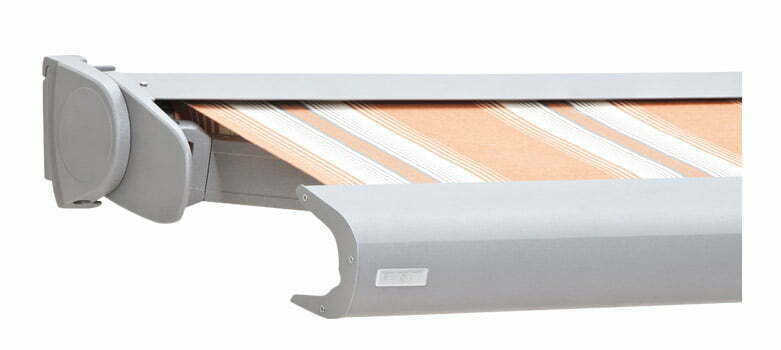 The Leiner Pico Awning has been specifically designed for smaller spaces, like compact terraces or balconies. It has a sturdy yet elegant design that will complement a wide range of architectural styles. It can be mounted on the wall or ceiling.
The maximum angle of inclination of the Leiner Pico Awning's folding arms is 85 degrees, making it ideal for overhead mounting on balconies. Its folding arms are made from hardened aluminium, which adds strength and durability, and our special manufacturing process makes the awning components more resistant, and enhances its safety and longevity.
Choice of operating systems
While the standard version of this awning comes with an electric motor, you also have the option of manual operation, or of a radio-controlled motor, thanks to Somfy RTS wireless technology. A manual drive can also be added as a safety back-up control if the radio-controlled or electric options are not operational.
Details
The PICO is available in a maximum width of 425 cm and a maximum projection of 250 cm. In the standard version an electric motor is included. It is not possible to supply coupled systems.
The PICO comes in the standard colour white (RAL 9010), or alternatively in one of the 18 LEINER LOUNGE fine structured finishes. We can also supply them in any preferred RAL colour for an additional charge.
Optional Extras
Discover the many different optional extras for the PICO compact cassette awning:
Wind Protect System
The Wind Protect System WPS is an innovation of LEINER and was originally developed for the more stringent requirements of awnings for cafés and restaurants. The Wind Protect System WPS is now also available for the PICO: fixable supports on the front profile significantly enhance the wind stability of your awning. Depending on the size of the awning, the WPS offers protection from winds up to wind strength 8 – even sudden gusts. For a wind tunnel test of the Wind Protect System WPS, take a look at this video.
Drive
A radio-controlled motor is available instead of an electric motor in the standard version. Thanks to Somfy io wireless technology, extending and retracting does not only work via remote control. Your smartphone can also be used for control. The io wireless system allows your awning to be integrated into your smart home. On request, the PICO can also be operated manually with a crank (lower price).
3D sensor
The radio-controlled motor drive variant can also be supplemented with a 3D sensor. Attached to the front profile, the sensor responds to the intensity of the movement of the awning, retracting it automatically if the wind gets too strong. Please note, however, that an electronic control will not protect your awning from sudden strong gusts of wind.
Control
Fully automated controls complement the electric drive and offer additional comfort and safety as sun and wind monitors, automatically extending or retracting your awning according to the sunlight or wind strength, even when you are not at home. Please note, however, that an electronic control will not protect your awning from sudden strong gusts of wind. An alternative is the manual Wind Protect System WPS. This optional extra variant stabilises your awning and also absorbs the sudden loads produced by gusts.
Heater
A heater allows you to sit out longer on those balmy summer evenings and enjoy the pleasant warmth under your awning. The heaters are also available in one of our 18 LEINER LOUNGE colours to match the awning. You also have the option of operating it wirelessly and integrating it into your smart home.
CALYPSO ROLL side awning
The CALYPSO ROLL side awning protects against both sunlight from the side and inquisitive glances – making it the perfect complement to the PICO for your terrace or balcony. The side awning protects also against light wind.
Fabrics
Exclusive awning fabrics to suit every taste
Only the combination of premium awning technology and a weatherproof yet elegant awning fabric will make your awning unique to you.
LEINER materials are known both for their quality and for the wide selection of different patterns. Our range comprises more than 200 patterns from various colour schemes and many special fabrics – with a diversity of choice extending from classic block stripes through timeless, monochrome materials to modern stripes. Last but not least, LEINER's awning fabrics offer protection against UV rays of up to factor 80.
Have a browse through the LEINER material collection in the comfort of your own home and choose the fabric you want in the LEINER Fabric planner.
Technical
The PICO can be mounted on the wall or ceiling.